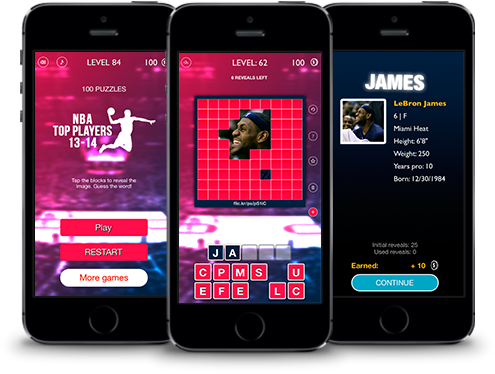 Best NBA Quiz game ever!
Like playing some trivia and word game of "what pic" type? This is coming, the true game for real basketball fans. This is not another game of this type, this is something more fresh. Nice high end graphics, icons and some features that can surprise You.You enter the app and think "hmm it's really looks good, oh and what's that?" Yes that's awesome music in background with juicy beats! Go further, You play, tapping the blocks to reveal the pic of the player, trying to guess the name, and congrats You guessed!
And what You see is another surprising. There is player profile with photo and some data : name, position, current team, team number, weight, height, years pro and d.o.b.
Awesome – try this app now on your iPhone!

Description:
Guess top NBA players of 2013-2014 season. Tap the blocks, reveal the pic and guess the word. It's that simple. Extra addictive puzzle game for basketball fans with some awesome music in background – You won't stop playing! Get to know with player profile. When You reveal the pic and guess name you can read player card with such information as recent team, team number, position, weight, height, D.O.B. and years pro. Awesome!
Absolutely the best game of its type.
Features:
Free game
100 pics of NBA players
Player profile
2013-2014 season top players
Extra fun to play
Background music with juicy beats
For true fans
Can you guess them all?
Show how good You are and how many of basketball Stars you know?
Try this app now on your iPad!

The Final Result – gameplay of NBA Top Players 2013-2014
Phasellus at vulputate urna. Suspendisse tincidunt diam sem, ac varius justo imperdiet sit amet quisque. Fringilla nulla suscipit aliquet.
If you like this project, please take a second
to share with the world so NBA Top Players app can grow!