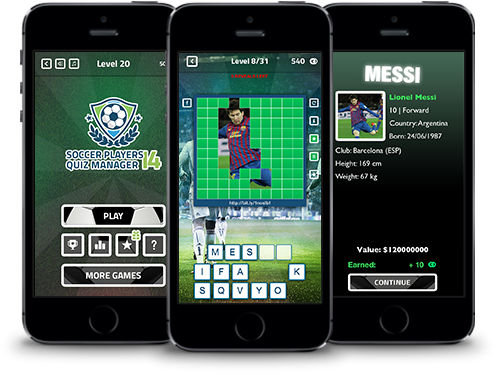 Soccer Players 14 Quiz Manager – guess the football stars and build top eleven fantasy team!
Experience the new kind of quiz game the game that creates its own unique game play.
Introducing unique game: Soccer Players 14 Quiz Manager
Guess the soccer stars and build your fantasy team.
Awesome – try this app now on your iPhone!

Description:
QUIZ MODE
There's a place you start your exciting game. Guess players from different playing lines such as goalkeepers, defenders, midfields and forwards. As a bonus play you can unlock legendary
players if you proof your great soccer knowledge. Let's tap the blocks to reveal the first player!
LINE UP MODE
Here you can build your dream team. Choose from players you have already revealed. Each player has a market value so you can combine a squad with the highest value! Share your fantasy team to your friends on facebook.
FORMATION MODE
Choose from different formation to favor your strategy. Find out which formation set help you reach in game achievements?
UNIFORMS MODE
Here you have some stunning uniforms to pimp your team. Some uniforms can even double your in game earnings.
ACHIVEMENTS
Try to complete near 40 cool achievements and earn points to Game Center leaderboards. Compete in Best Managers list and the Richest list all around the world.
KEY FEATURES
Guessing 300 puzzles of soccer stars
Building your dream team
Setting your favorite formation
Choosing from 24 different uniforms
Completing cool achievements
Game Center leaderboard with the Best Managers List and The Richest List
Listening to some nice music
Sharing with friends
Absolutely the best game of its type.
Can you guess them all?
Show how good You are and how many of Soccer Stars you know?
Try this app now on your iPad!

Download now! You will love it!
**DON'T MISS OUR OTHER AWESOME GAMES!** Ice Hockey Top Players, Baseball Top Players, NBA Top Players, American Football Top Players, Guess Winter Sports Top Athletes, Guess Tennis Top Players
Be the first to know! Get inside AwesomeAppsLab info on great deals and more!
VISIT US: awesomeappslab.com
LIKE US: facebook.com/awesomeappslab
WATCH US: youtube.com/user/awesomeappslab
The best games from AwesomeAppsLab
If you like this project, please take a second to share with the world so Tennis Top Players app can grow!